I often find it strange how some programming books arbitrarily classify content as either "beginner" or "advanced." The advanced material may not be advanced at all. Maybe by "advanced" the author means "the stuff I didn't learn right away." However, Expert Python Programming by Tarek Ziadé objectively is an advanced book. I had heard good things about the book from the Python 411 podcast and had it on my list of books to buy when the book's publisher gave me a copy to review.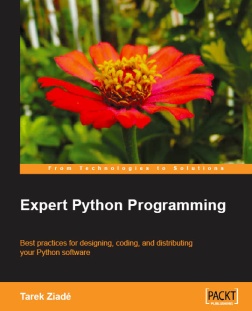 Expert Python Programming assumes the reader has a solid knowledge of Python. In some ways, it is the Python counterpart to Scott Meyers' Effective C++ series, giving advice about recommended practice. But Ziadé's Python book is broader than Meyer's C++ books because Expert Python Programming goes beyond best practices for language use. The latter chapters discuss how to package and distribute Python applications, software life cycle management, documentation, test-driven development, optimization, and design patterns. I'd like to see more books follow this pattern, covering these important topics in the context of a particular language or tool set. I was particularly pleased to see 27 pages devoted to documentation.
True to its name, Expert Python is not for beginners; I'd recommend Wesley Chun's Core Python for a first book. But I'd heartily recommend Expert Python Programming as a second Python book. The book has an impressive range of practical material including numerous links to even more resources.
Update: Thomas Guest also reviewed this book.