I just discovered the website Six Degrees of Wikipedia. It lets you enter two topics and it will show you how few hops it can take to get from one to the other.
Since the mathematical equivalent of Six Degrees of Kevin Bacon is Six degrees of Paul Erdős, I tried looking for the distance between Kevin Bacon and Paul Erdős and found this: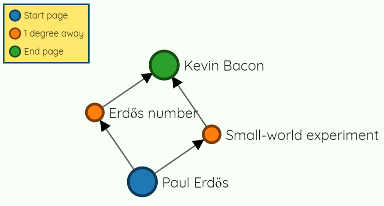 Kevin Bacon and Paul Erdős are both known for their prolific collaborations. Many actors have acted with Kevin Bacon, or acted with actors who have acted with him, etc. Many mathematicians wrote papers with Erdős, or have written papers with people who have written papers with him, etc. I'm four degrees of separation from Paul Erdős last I checked.  [1]
Here's a more complex graph showing the three degrees of separation between Thomas Aquinas and Thomas the Tank Engine.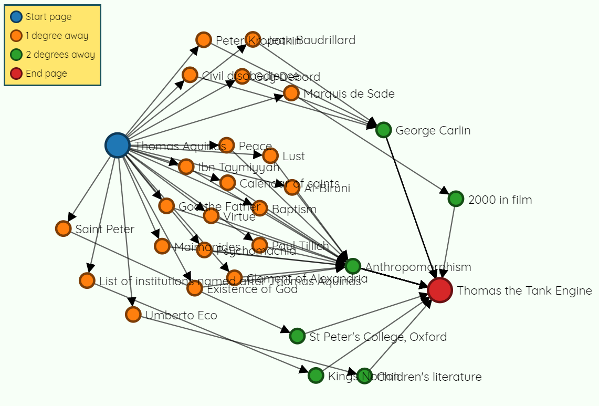 Note that the edges are directed, links from the starting page to pages that lead to the target page. If you reverse the starting and ending page, you get different results. For example, there are still three degrees of separation if we reverse our last example, going from Thomas the Tank Engine to Thomas Aquinas, but there are about twice as many possible paths.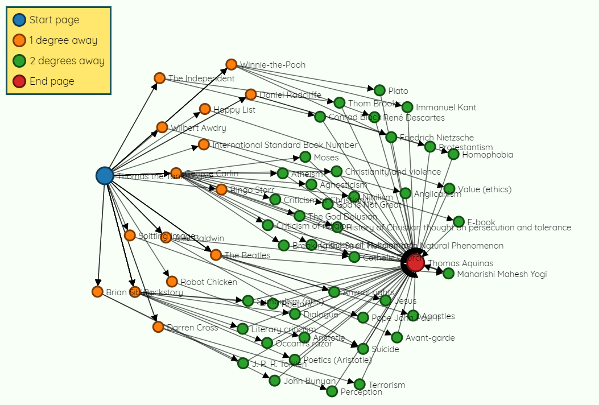 More network posts
[1] Your Erdős number, the degrees of separation between your and Paul Erdős, can decrease over time because his collaborators are still writing papers. Even Erdős himself continued to publish posthumously because people who began papers with him finished them years later.