You may know that ratios of consecutive Fibonacci numbers tend to the golden ratio in the limit. But do know how they tend to the limit? The ratio oscillates, one above the golden ratio, the next below, each getting closer. The plot shows F(n+1) / F(n) where F(n) is the nth Fibonacci number. The height of the horizontal line is the golden ratio.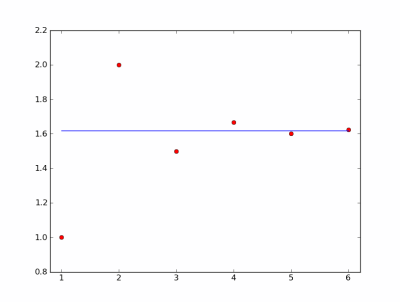 We can prove that the ratio oscillates by starting with the formula
where φ = (1 + √5)/2 is the golden ratio.
From there we can work out that

This shows that when n is odd, F(n+1) / F(n) is below the golden ratio and when n is even it is above. It also shows that the absolute error in approximating the golden ratio by F(n+1) / F(n) goes down by a factor of about φ2 each time n increases by 1.
More Fibonacci posts