Dan Wineman shared a profound insight on Twitter:
You say "looks like somebody has too much time on their hands" but all I hear is "I'm sad because I don't know what creativity feels like."
In place of "creativity" Wineman might have as easily said "persistence." I found Wineman's quote in a post by Dan Meyer responding to criticism of his research projects.
I've said that someone has too much time on their hands, but not since I read Meyer's post. I see now that the phrase is often a sour grapes response to creativity. I don't want to do that anymore.
When we see that someone has spent a thousand hours on a project that we think was a frivolous, it's easy to say "what a waste of time." We think how much good could have been done with that same amount of effort. But what was the realistic alternative? If that same person had spent a thousand hours in front of their television instead, no one would ever know and no one would ever criticize them. Instead, they created something.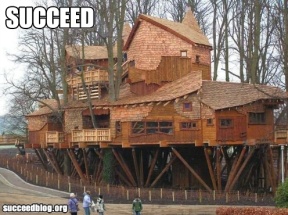 Tree house photo from Succeed Blog. Full size photo.