This magic square was created by Leonhard Euler (1707-1783). Each row and each column sum to 260. Each half-row and half-column sum to 130. The square is also a knight's tour: a knight could visit each square on a chessboard exactly once by following the numbers in sequence.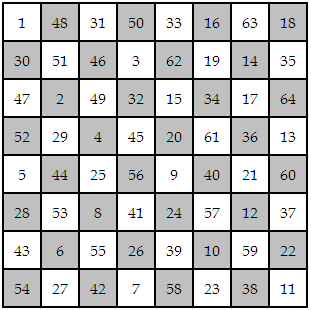 Here is Python code to verify that the square has the properties listed above.
Update: It seems the attribution to Euler is a persistent error. Euler did publish the first paper on knight's tours, but the knight's tour square above was published by William Beverley in 1848. Thanks to George Jelliss for the correction. See the comments below.
Update 2: Notes from George Jelliss on magic king and queen tours.
Update 3: This is technically a semi-magic square: the rows add up to the same magic constant, but the diagonals do not. See Magic square errata.