Bill Cook sent me a file yesterday that renders the Endeavour photo on my blog as the solution to a 66,290-city Traveling Salesman problem. His iPhone app Concord TSP chose 66,290 points and then solved for the shortest path connecting these points, a feat that would have strained a supercomputer a few years ago. (Bill Cook and I are not related as far as I know.)
Here is a thumbnail image of the full TSP tour: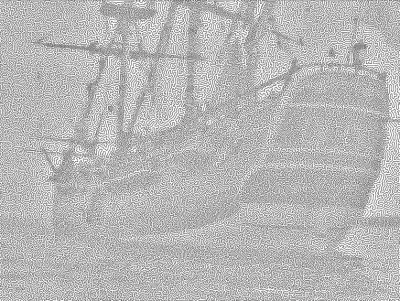 You can find the full PDF here (1.24 MB). To show some of the detail, here is a close-up from near the top-left corner of the image:
I asked how the tour was constructed:
How do you construct a set of points whose TSP solution resembles a photograph? Is it sufficient to add more "cities" in regions where you want darker shading? And are the cities added at random with a density specified by color depth?
Bill Cook replied:
By default, the app will select the points along the line you describe: it splits the image into a grid, computes the average gray scale in each grid region, and drops a number of random cities into each grid region in proportion to the square of the average gray scale. This technique was first proposed by Bob Bosch and Adrianne Herman at Oberlin College. It is the default since it takes almost no time to compute, but I include two other options, that each take about a minute to render a large image on an iPhone 4.

The image of The Endeavour was created with a method Jim Bumgarnder proposed in his Stipple Cam project.
Related post: Moore's law squared