The other day Nils gave an interesting answer to a question on StackOverflow regarding color theory. 
NEVER ever use pure colors. … If you have no idea what color to start with, get a classic masterpiece of painting from the net. Blur it a bit and then pick some nice colors from it. If you use some common sense it's hard not to end with pleasant colors this way.
He gave the example of extracting this color scheme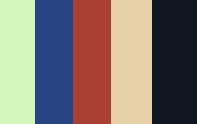 from this painting.