My previous post gave three algorithms for converting color to grayscale. This post gives more examples and details.
The image below is a screenshot from an Excel spreadsheet illustrating color values and how the convert to grayscale. The R, G, and B columns are the red, green, and blue component values of the color sample in the leftmost column. The columns labeled "Li", "Lu", and "Avg" are the grayscale values of the color using the lightness, luminosity, and average algorithms from the previous post.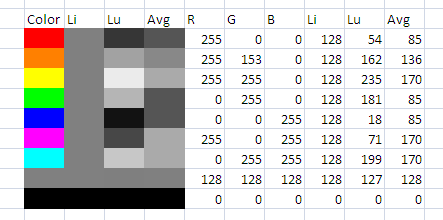 The grayscale color samples were created by asking Excel to set the background color to (X, X, X) where X is the grayscale value. For example, the background color for the "Lu" column of the first row is (54, 54, 54) since 54 is the luminosity value for pure red.
To verify the algorithms, I converted the screen shot above to a grayscale image using GIMP. The gray cells remain unchanged because all three algorithms leave gray alone; when all three RBG values are equal, it's clear from the formulas that the grayscale value becomes the common value. The color cells in the first column become the shade of gray predicted and hence match the column of gray cells for that algorithm.
Using lightness: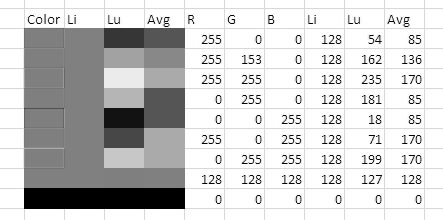 Using luminosity: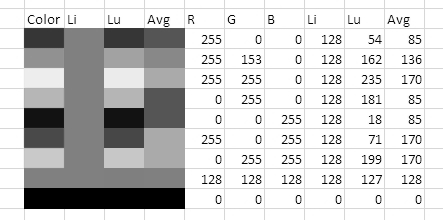 Using average: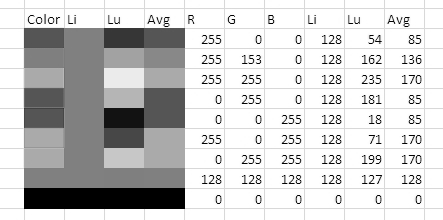 Related post: Three algorithms for converting color to grayscale