After posting about a magic square made from knight's tour, I wondered whether there are magic squares made from a king's tour. (A king can move one square in any direction. A tour is a sequence of moves that lands on each square of a chess board exactly once.) I found George Jelliss' site via the comments to that post and found out that there are indeed magic king's tours. Here's one published in 1917.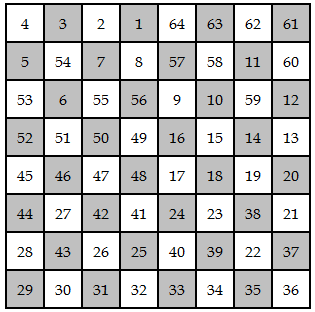 Here's the path a king would take in the square above: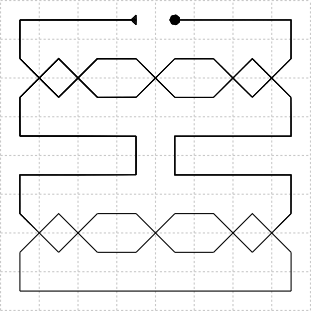 The knight's tour magic square had rows and columns that sum to 260, though the diagonals did not. In fact, someone has proved that a knight's tour on an 8×8 board cannot be diagonally magic. (Thanks John V.)
In the king's tour above, however, the rows, columns, and diagonals all sum to 260. George Jelliss has posted notes that classify all such magic squares that have biaxial symmetry. See his site for much more information.