This afternoon I ran across the jinc function for the first time.
The sinc function is defined by
The jinc function is defined analogously by
where J1 is a Bessel function. Bessel functions are analogous to sines, so the jinc function is analogous to the sinc function.
Here's what the sinc and jinc functions look like.
The jinc function is not as common as the sinc function. For example, both Mathematica and SciPy have built-in functions for sinc but not for jinc. [There are actually two definitions of sinc. Mathematica uses the definition above, but SciPy uses sin(πt)/πt. The SciPy convention is more common in digital signal processing.]
As I write this, Wikipedia has an entry for sinc but not for jinc. Someone want to write one?
For small t, jinc(t) is approximately cos(t/2) / 2. This approximation has error O(t4), so it's very good for small t, useless for large t.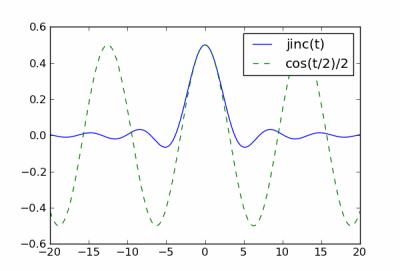 For large values of t, jinc(t) is like a damped, shifted cosine. Specifically,
with an error that decreases like O( |t|-2 ).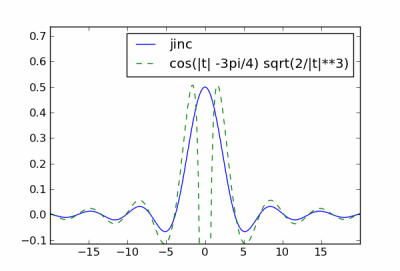 Like the sinc function, the jinc function has a simple Fourier transform. Both transforms are zero outside the interval [-1, 1]. Inside this interval, the transform of sinc is a constant, √(π/8). On the same interval, the transform of jinc is √(2/π) √(1 – ω2).
More Bessel function posts