Lately I've been reading The Best Writing on Mathematics 2012. I'd like to present a alternative perspective on one of the articles.
In his article "An Adventure in the Nth Dimension," Brian Hayes explores how in high dimensions, balls have surprisingly little volume. As the dimension n increases, the volume of a ball of radius 1 increases until n = 5. Then for larger n the volume steadily decreases. Hayes asks
What is it about five-dimensional space that allows a unit 5-ball to spread out more expansively than any other n-ball?
He says that it all has to do with the value of π and that if π were different, the unit ball would have its maximum value for a different dimension n. While that is true, it seems odd to speculate about changing the value of π. It seems much more natural to speculate about changing the radius of the balls.
The volume of a ball of radius r in dimension n is
If we fix r at 1 and let n vary, we get a curve like this:
But for different values of r, the plot will have its maximum at different values of n. For example, here is the curve for balls of radius 2: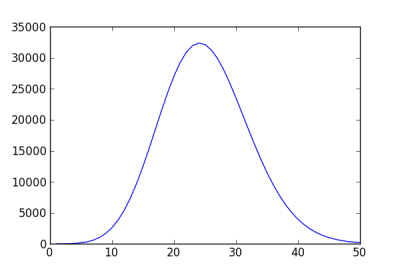 Let's think of n in our volume formula as a continuous variable so we can differentiate with respect to n. It turns out to be more convenient to work with the logarithm of the volume. This makes no difference: the logarithm of a function takes on its maximum exactly where the original function does since log is an increasing function.
We can tell from this equation that volume (eventually) decreases as a function of n because ψ is an unbounded increasing function. The derivative has a unique zero, and we can move the location of that zero out by increasing r. So for any dimension n, we can solve for a value of r such that a ball of radius r has its maximum volume in that dimension:
Related: High dimensional integration