I saw somewhere that James Earl Jones' speaking voice is around 85 Hz. What musical pitch is that?
Let P be the frequency of some pitch you're interested in and let C = 261.626 be the frequency of middle C. If h is the number of half steps from C to P then
P / C = 2h/12.
Taking logs,
h = 12 log(P / C) / log 2.
If P = 85, then h = -19.46. That is, James Earl Jones' voice is about 19 half-steps below middle C, around the F an octave and a half below middle C.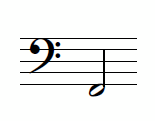 More details on the derivation above here.
There's a page to do this calculation for you here. You can type in frequency or pitch and get the other back.
(The page also gives pitch on a Bark scale, something you may not care about that is important in psychoacoustics.)