A few months ago I wrote about suffix primes, prime numbers such that all their "suffixes" are prime. For example, 653 is prime, and it's a suffix prime because 53 and 3 are primes.
James Griffin pointed out that the primes have a natural tree structure, the parent of each number being that number with its most significant digit removed. There are two separate trees: one for numbers ending in 3 and another for numbers ending in 7. The numbers 2 and 5 are isolated nodes with no descendants.
There are 4260 suffix primes, about half ending in 3 and half ending in 7. A full list is available here. The graph of either tree is a mess, but here we show the first three levels of the graph for numbers ending in 3.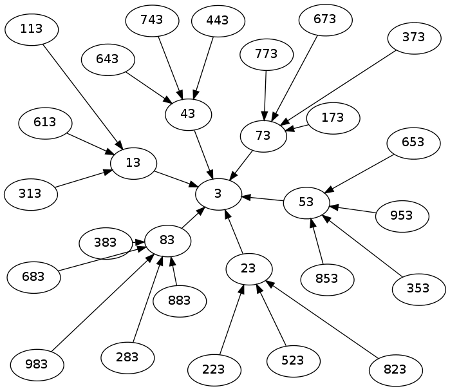 And here's the corresponding graph for numbers ending in 7.
How bushy are these trees? The number of nodes at each level increases up to a maximum of 545 nodes at level 9 then decreases. The levels of the suffix primes in their respective trees is given in the histogram below.