I'm reading Real World Haskell because one of my clients' projects is written in Haskell. Some would say that "real world Haskell" is an oxymoron because Haskell isn't used in the real world, as illustrated by a recent xkcd cartoon.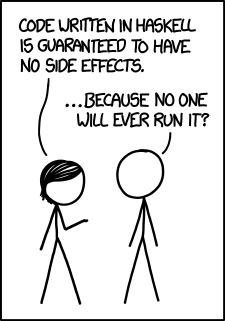 It's true that Haskell accounts for a tiny portion of the world's commercial software and that the language is more popular in research. (There would be no need to put "real world" in the title of a book on PHP, for example. You won't find a lot of computer science researchers using PHP for its elegance and nice theoretical properties.) But people do use Haskell on real projects, particularly when correctness is a high priority.[1] In any case, Haskell is "real world" for me since one of my clients uses it. As I wrote about before, applied is in the eye of the client.
I'm not that far into Real World Haskell yet, but so far it's just what I was looking for. Another book I'd recommend is Graham Hutton's Programming in Haskell. It makes a good introduction to Haskell because it's small (184 pages) and focused on the core of the language, not so much on "real world" complications.
A very popular introduction to Haskell is Learn You a Haskell for Great Good. I have mixed feelings about that one. It explains most things clearly and the informal tone makes it easy to read, but the humor becomes annoying after a while. It also introduces some non-essential features of the language up front that could wait until later or be left out of an introductory book.
* * *
[1] Everyone would say that it's important for their software to be correct. But in practice, correctness isn't always the highest priority, nor should it be necessarily. As the probability of error approaches zero, the cost of development approaches infinity. You have to decide what probability of error is acceptable given the consequences of the errors.
It's more important that the software embedded in a pacemaker be correct than the software that serves up this blog. My blog fails occasionally, but I wouldn't spend $10,000 to cut the error rate in half. Someone writing pacemaker software would jump at the chance to reduce the probability of error so much for so little money.
On a related note, see Maybe NASA could use some buggy software.