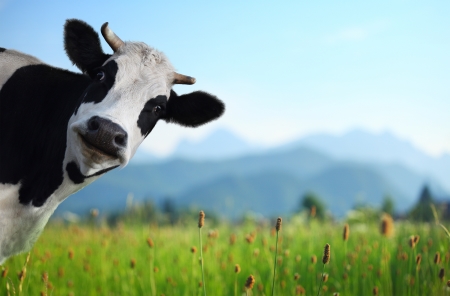 One attempt at rationalizing astrology is to say that the gravitational effects of celestial bodies impact our bodies. To get an idea how hard the stars and planets pull on us, let's compare their gravitational attraction to that of cows at various distances.
Newton's law of gravity says that the gravitational attraction between two objects is proportional to the product of their masses and inversely proportional to the square of the distance between them. From this we can solve for how far away a cow would have to be to have the same gravitational attraction.
For round numbers, let's say a cow weighs 1000 kg. (Strictly speaking, that's a more typical weight for a bull than a cow.) Then Jupiter has as much gravitational tug on a person as does a cow about two feet away.
Regulus, the brightest star in Leo, has the same pull as a cow about 5 miles away. Alpha Centauri, the closest star to Earth (other than the sun, of course) has about the same pull as a cow 18 miles away.
Calculations were based on average distance. The distance to planets changes over time, but so does the distance to a given cow, and the relative change in the latter over time is potentially much larger.
|----------------+--------------|
| Body           | Cow distance |
|----------------+--------------|
| Jupiter        |     0.57 m   |
| Venus          |     2.45 m   |
| Mars           |    10.06 m   |
| Regulus        |     7.81 km  |
| Alpha Centauri |    28.70 km  |
|----------------+--------------|