Joel Spolsky of Joel on Software fame mentions queueing theory in the latest StackOverflow podcast. He mentions a rule of thumb that wait times go up quickly as server utilization exceeds 80%. The same principle applies whether you're talking about computer servers or human servers. I hadn't heard of that rule of thumb, though I knew that you don't want anywhere near 100% utilization. Here's the graph that justifies Joel's remark.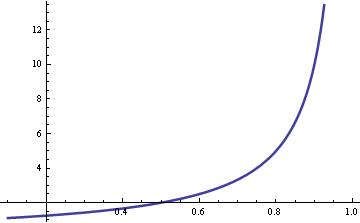 The vertical axis is wait time. The horizontal access is utilization.
Here are the details. Basic queuing theory assumes customer arrivals are Poisson distributed with rate λ. Service times are exponentially distributed with rate μ. The ratio λ/μ is called utilization ρ. If this ratio is greater than 1, that says customers are arriving faster than they can be served, and so the line will grow without bound. If the ratio is less than 1, the line will reach some steady state on average.
The average waiting time is W = 1/(μ-λ). Now assume the service time μ is fixed and the arrival rate λ = ρ μ. Then W = 1/μ(1-ρ) and so the wait time is proportional to 1/(1-ρ). As the utilization ρ approaches 1, the wait time goes to infinity. The graph above plots 1/(1-ρ). As Joel said, the curve does go up quickly when ρ exceeds 0.8.
Related post: What happens when you add a new teller?