Yesterday I wrote a post about how to start numbering a list in HTML at some point other than 1. Mark Reid and Thomas Guest pointed out that my example did not show up correctly in Google Reader.
Here's how the list shows up when I browse directly to the post using Firefox 3 on Windows XP.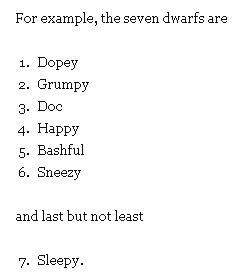 But here's what the same list looks like when I look at the post inside Google Reader.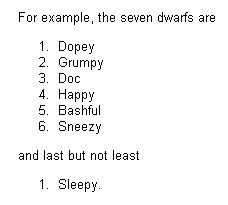 I don't understand why the difference. In fact, I don't understand in general why posts often look different in Google Reader. For example, the screenshots above are centered when you visit the blog directly, but are left-aligned in Google Reader. Also, the space between the images and the text is removed.
Do other RSS readers similarly mangle HTML? Any suggestions how to fix the problem?
Update: Changed the way images are centered per Thomas Guest's suggestion.