Suppose you have uniform random samples from the interval [0, 1].  If you add a large number of such samples together, the sum has an approximately normal distribution according to the central limit theorem. But how many do you have to add together to get a good approximation to a normal? Well, two is clearly not enough. Here's what the density looks like for the sum of two uniform values.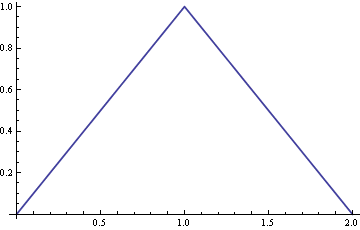 But look what happens when we add three uniforms together. If you're very familiar with the normal distribution and have a good eye, you might be able to tell that the density is a little flat at the top.
Here's a graph that shows the distribution for a sum of four uniforms. The dotted curve is the graph of the normal distribution with the same mean and variance as the sum of the four uniforms. If the two graphs were not on top of each other, hardly anyone could tell which was the normal and which was the sum of uniforms.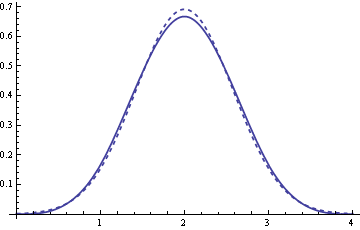 Note that this fast convergence to a normal distribution is a special property of uniform random variables. The sum of four exponential random variables, for example, does not look nearly so normal.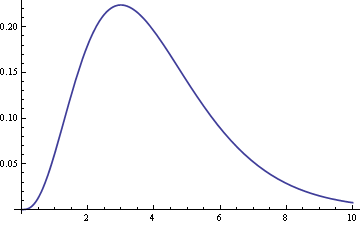 Here's the analytic expression for the density of the sum of n uniform random variables that was used to produce these graphs.
Here the notation z+ stands for the positive part of z, i.e. the expression z+ equals z if z is positive and equals 0 otherwise.
According to Feller's classic book, the density result above was discovered by Lagrange. Feller gives a series of exercises leading up to this result. First he gives the distribution function for the sum of n-sided dice and asks the reader to prove the result. Then the reader is asked to take the limit as the number of sides on each dice goes to infinity to derive the result for uniform random variables.
John Venier left a comment to a previous post about the following method for generating a standard normal: add 12 uniform random variables and subtract 6. Note that this is not just any normal distribution but a standard normal, i.e. mean 0 and variance 1. Since the variance of a single uniform random variable is 1/12, adding 12 such values makes the variance 1. How good is the generator he describes? The maximum difference between the CDF of his generator and the CDF of a standard normal is about 0.00234.
Related post: Rolling dice for normal samples