Near the end of her course on classical mythology, Elizabeth Vandiver speculates on why people find Shakespeare hard to read. She says that, contrary to popular opinion, the difficulty is not the language per se. Elizabethan English is not that foreign to modern readers. The difficulty in reading Shakespeare comes from the literary allusions, particularly the allusions to classical mythology.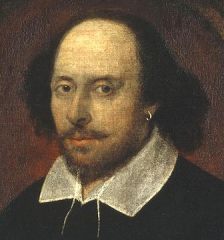 Her explanation matches my experience. I can easily read the King James version of the Bible, produced during Shakespeare's lifetime, but I find it hard to slog through Shakespeare. (To be fair, I must say I grew up with far more exposure to the King James Bible than to Shakespeare.)
Vandiver when on to say that the primary source of classical mythology for Shakespeare and his audience was Ovid's Metamorphoses. Studying this one book would make the Bard much more approachable.