The previous post presented a problem first posed by Johannes Müller in 1471.
Where you should stand so that a vertical bar appears longest?

To be more precise, suppose a vertical bar is hanging so that the top of the bar is a distance a above your eye level and the bottom is a distance b above your eye level. Let x be the horizontal distance to the bar. For what value of x does the bar appear longest?
In the following diagram, we wish to maximize the angle θ.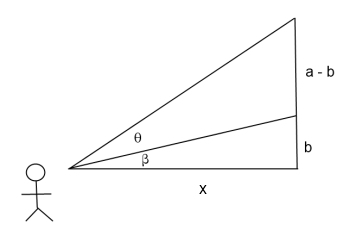 Since tangent is an increasing function, it suffices to maximize tan(θ). Let α = θ + β. Then

Now use tan α = a/x and tan β = b/x to reduce the expression above to

Now we have a function of x to maximize. Take the derivative and find where it is zero. The maximum occurs at √ab, the geometric mean of a and b.
However, when Müller proposed his problem in 1471, calculus had not yet been invented, so we can be pretty sure Müller did not take derivatives. I don't know how (or even if) Müller solved his problem, but the book where I found the problem showed how it could be solved without calculus. The derivation is a little longer, but it only depends on simple algebra and the arithmetic-geometric mean inequality, i.e. the observation that (a + b) /2 ≥ √ab.
Update: Here is a purely geometric solution by George Papademetriou.
Update: See this post for more historical background.
Other posts about the geometric mean: