About a month ago I gave away a copy of Learn Windows PowerShell 3 in a Month of Lunches that Manning provided. Now I'm giving away a copy of PowerShell in Depth: An administrator's guide by Don Jones, Richard Siddaway, and Jeffery Hicks.
To enter the drawing, please leave a comment below. I'll draw a winner from the comments received by the end of the day Monday, July 30 in my time zone.
This book is part of Manning's early release program. The winner will receive the current version of the book in electronic form and updates as they come out.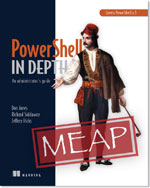 Related links: