I ran across this graphic this morning on Twitter: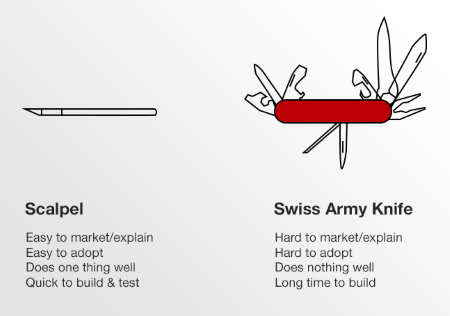 Obviously the intended message is that scalpels are better than Swiss Army Knives. Certainly the scalpel looks simpler.
But most people would rather have a Swiss Army Knife than a scalpel. Many people, myself included, own a Swiss Army Knife but not a scalpel. (I also have a Letherman multi-tool that the folks at Snow gave me and I like it even better than my Swiss Army Knife.)
People like simplicity, at least a certain kind of simplicity, more in theory than in practice. Minimalist products that end up in the MoMA generally don't fly off the shelves at Walmart.
The simplicity of a scalpel is superficial. The realistic alternative to a Swiss Army Knife, for ordinary use, is a knife, two kinds of screwdriver, a bottle opener, etc. The Swiss Army Knife is the simpler alternative in that context.
A surgeon would rightfully prefer a scalpel, but not just a scalpel. A surgeon would have a tray full of specialized instruments, collectively more complicated than a Swiss Army Knife.
I basically agree with the Unix philosophy that tools should do one thing well, but even Unix doesn't follow this principle strictly in practice. One reason is that "thing" and "well" depend on context. The "thing" that a toolmaker has in mind may not exactly be the "thing" the user has in mind, and the user may have a different idea of when a tool has served well enough.