Last night I checked a few books out from a library. One was Milton's Paradise Lost and another was Kuipers' Quaternions and Rotation Sequences. I didn't expect any connection between these two books, but there is one.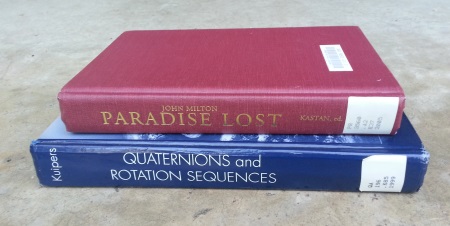 The following lines from Book V of Paradise Lost, starting at line 180, are quoted in Kuipers' book:
Air and ye elements, the eldest birth
Of nature's womb, that in quaternion run
Perpetual circle, multiform, and mix
And nourish all things, let your ceaseless change
Vary to our great maker still new praise.
When I see quaternion I naturally think of Hamilton's extension of the complex numbers, discovered in 1843. Paradise Lost, however, was published in 1667.
Milton uses quaternion to refer to the four elements of antiquity: air, earth, water, and fire. The last three are "the eldest birth of nature's womb" because they are mentioned in Genesis before air is mentioned.