This morning I ran across the following graph via Horace Dediu.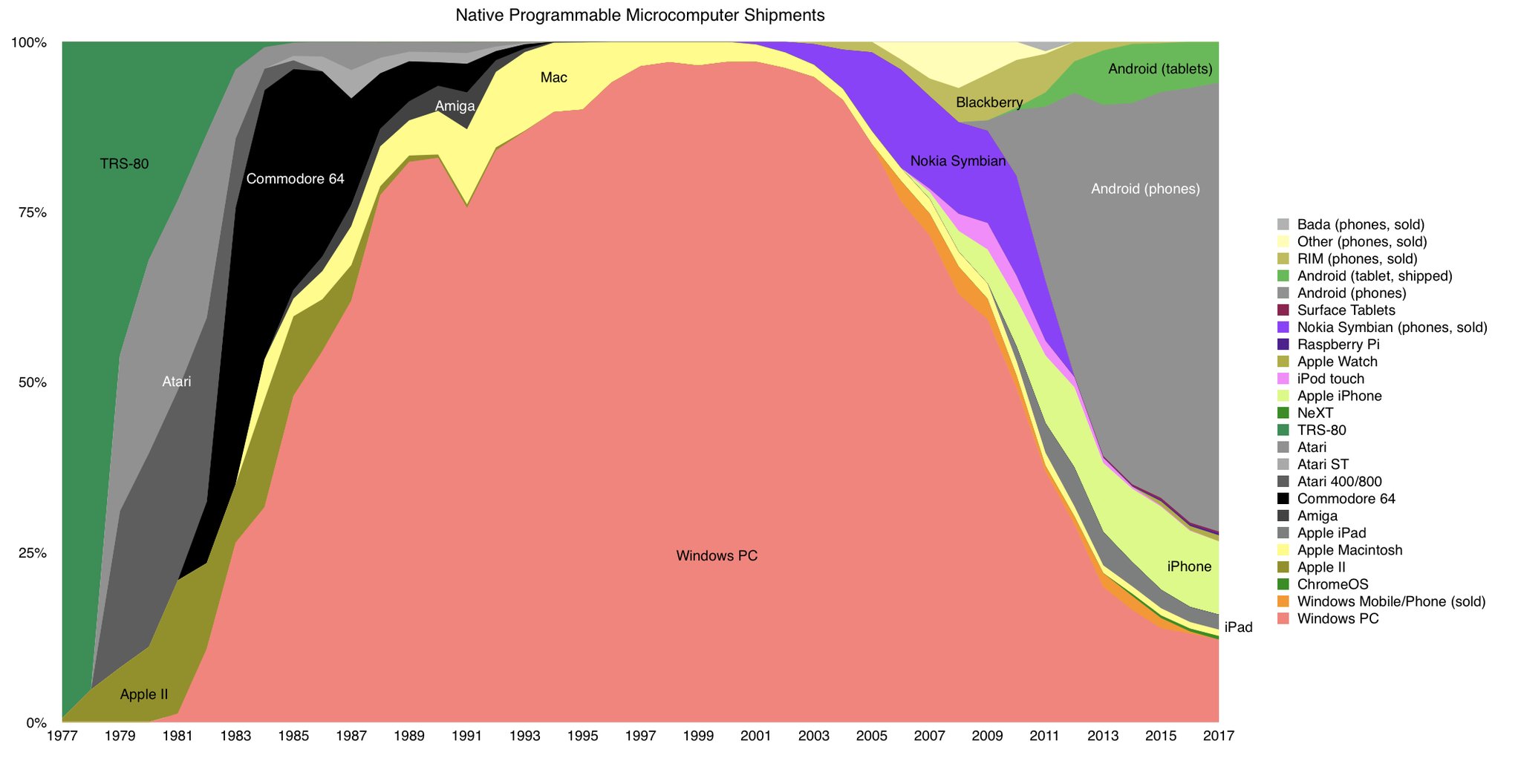 I developed Windows software during the fattest part of the Windows curve. That was a great time to be in the Windows ecosystem.
Before that I was in an academic bubble. My world consisted primarily of Macs and various flavors of Unix. I had no idea that my world was a tiny minority. I had a PC at home, but mostly used it as a terminal to connect to remote Unix machines, and didn't realize that Windows was so dominant.
When I found out I'd been very wrong in my perception of market share, I determined not to be naive again. Ever since then I regularly look around to keep an eye on the landscape.
The graph above combines desktop and mobile computers, and you may or may not think that's appropriate. Relative to the desktop market, Windows remains dominant, but the desktop market share itself has shrunk, not so much in absolute size but relative to total computer market.
Last time I looked, about 70% of the traffic to this website comes from desktops. I still consider the desktop the place for "real work," and many people feel the same way.
It's conventional to say the Roman Empire fell in 476 AD, but this would have been a surprise to those living in the eastern half of the empire who considered themselves to be Roman. The eastern (Byzantine) empire continued for another thousand years after the western empire fell.
The Windows empire hasn't fallen, but has changed. Microsoft is doing well, as far as I know. I don't keep up with Microsoft as much as I used to. I have no animosity toward Microsoft, but I'm no longer doing the kind of work their tools are intended for. I still use Windows—I'm writing this blog post from my Windows 10 machine—though I also use Mac, Linux, iOS, and Android.