I recently got a copy of Methods of Theoretical Physics by Morse and Feshbach. It's a dense book, literally and metaphorically. I wondered whether it might be the densest book I own, so I weighed some of my weightier books.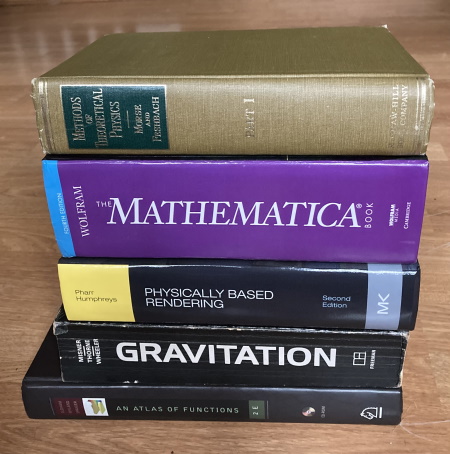 Morse and Feshbach has density 1.005 g/cm³, denser than water.
Gravitation by Misner, Thorne, and Wheeler is, appropriately, a massive book. It's my weightiest paperback book, literally and perhaps metaphorically. But it's not that dense, about 0.66 g/cm³. It would easily float.
The Mathematica Book by Wolfram (4th edition) is about the same weight as Gravitation, but denser, about 0.80 g/cm³. Still, it would float.
Physically Based Rendering by Pharr and Humphreys weighs in at 1.05 g/cm³. Like Morse and Feshbach, it would sink.
But the densest of my books is An Atlas of Functions by Oldham, Myland, and Spanier, coming in at 1.12 g/cm³.
The books that are denser than water were all printed on glossy paper. Apparently matte paper floats and glossy paper sinks.