Students who take a course in differential equations don't really learn how to solve differential equations. The problems whose solutions they reproduce were solved over 300 years ago. The methods taught in undergraduate ODE classes are in some sense mnemonics, a way to remember a solution discovered long ago.
Abandon hope of originality
The more scrupulous students in an ODE class cringe at being told "Guess a solution of the form …" because it seems like cheating. They may think "But I really want to learn how to solve things on my own." This objection isn't often addressed in part because it's not often said out loud. But if it were explicitly stated, here's one way to answer it.
That's great that you want to learn how to solve differential equations on your own. But solving differential equations, in the sense of finding closed-form solutions by hand, is really hard, and unlikely to succeed. The differential equations that come up in application, that have closed-form solutions, and whose solutions can be calculated by hand in under an hour have been known since the Bernoulli's. If this is an exaggeration, it's a slight exaggeration.

You will learn some useful things in this class, and you may even get your first exposure to ideas that latter lead you to do original mathematics [1]. But if so, that original mathematics probably won't be finding new closed-form solutions to useful differential equations.
This changes the perspective of the ODE class. Instead of pretending that students are going to learn how to solve differential equations ex nihilo, we can be honest that students are going to learn how to "look up" solutions to solved problems. Learning how to look up these solutions is not trivial, and in fact it takes about a semester to learn. You can't literally look up the solution to a particular differential equation in all its specifics, but you can learn to follow the recipes forclasses of equations
The role of rigor
There is a time for everything under the sun. A time for rigor and a time for handwaving. A time to embrace epsilons and a time to shun epsilons.
You can learn a lot of important reusable analysis techniques in the context of differential equations. And if that's the goal, being rigorous is good. But if the goal is to recall the solution to a solved problem, then it's expedient to use dirty hacks; think of them almost as mnemonics rather than as solution techniques.
Once you have a candidate solution in hand, you can always rigorously verify that it works by sticking it into the differential equation. In that sense you're not sacrificing rigor at all.
Operator calculus
Operator calculus treats the differential operator D as a formal symbol and does calculus with it as if it were a number. This is commonly called an abuse of notation, but it has a certain elegance to it. The manipulations could be made rigorous, though not by students in an undergraduate ODE class.
Operator calculus is very powerful, and with great power comes great responsibility. It is not often taught to undergraduates, and for good reason. Sometimes formal operations are justified and sometimes they're not. Misuse can lead to results that are simply wrong and not just illegally obtained. With that said, let's jump in.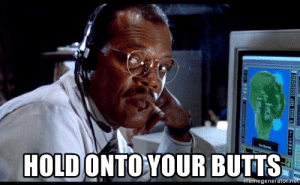 Let's find a solution [2] to
Writing the differential operator as D the equation becomes
and so the solution is obviously (!)
"You can't just divide by a differential operator like that!" Oh yeah? We're going to do more than that. We're going to break it into partial fractions and power series!
The last term means terms involving D³ and higher powers of D.
Now the first derivative of x² is 2x, the second derivative is 2, and all higher derivatives are 0. So when we apply the operator series above to x² only the terms up to D² contribute anything. From this we can tell that
is a solution to our differential equation. You may be deeply skeptical of how we got here, and good for you if you are, but it's easy to show that this is in fact a solution to our differential equation.
Is this worth it?
There are other ways to find a solution to our differential equation. For example, you might have made an inspired guess that the solution is a quadratic polynomial and solved for the coefficients of that polynomial.
On the other hand, the operator calculus approach is more general. We could use a similar approach to solve differential equations with a wide variety of right hand sides. And the approach is systematic enough to be programmed into a computer algebra system.
Related posts
[1] That was my experience. I specialized in PDEs in grad school and learned a lot that was useful later outside of PDEs.
[2] The general solution to linear equations like this is the general solution to the corresponding homogeneous equation (i.e. with the right hand side set to 0) plus a "particular solution" (i.e. any solution to the equation with the original right hand side restored). Any particular solution will do, because any two particular solutions differ by a solution to the homogeneous equation.