Tinyarro.ws is a service like tinyurl.com and others that shorten URLs. However, unlike similar services, Tinyarro.ws uses Unicode characters, allowing it to encode more possibilities into each character. These sub-compact URLs may contain Chinese characters, for example, or other symbols unfamiliar to many users. They're no good for reading aloud, say over the phone or on a podcast. But they're ideal for Twitter because you only have to click on the link, not type it into a browser.
Here's a URL I got when I tried the Tinyarro.ws site: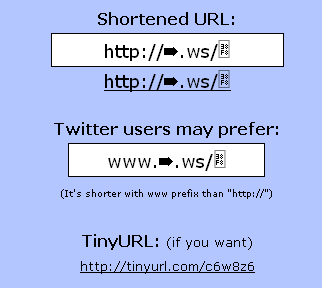 The resulting URL may not display correctly in your browser depending on what fonts you have installed: http://➡.ws/㣸.
I pasted the URL into Microsoft Word and used Alt-x to see what the Unicode characters were. (See Three ways to enter Unicode characters in Windows.) The arrow is code point U+27A1 and the final character is code point U+38F8. I have no idea what that character means. I would appreciate someone letting me know in the comments.

Related post: How to insert graphics in Twitter messages