My previous post described how to include an Inkscape drawing in a LaTeX document. This post describes how to use LaTeX in an Inkscape drawing, which is probably more useful. The LaTeX output is included not as bitmap but as a vector drawing that can then be manipulated with all the features of Inkscape.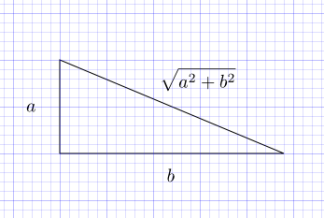 The Inkscape book describes the InkLaTeX extension, but the website for InkLaTeX recommends a newer extension textext. Once textext is installed, you can insert LaTeX into an Inkscape drawing by going to the Extensions menu and selecting "TeX Text". This launches a window in which to type your LaTeX source.
Before I could install textext, I had to install pstoedit. The textext extension also requires LaTeX and Ghostscript, but these were already on my computer. pstoedit has several installation options; I chose the default basic option and that worked. Also, pstoedit says that it requires two Visual C++ runtime DLLs: msvcr70.dll and msvcp70.dll. I already had these, but the pstoedit site gives a link to where you can find these DLLs if you need them.
I had Inkscape running when installed textext and I had to restart Inkscape to see the "TeX Text" menu.
Related post: Including an Inkscape drawing in LaTeX