Rosenbrock's banana function is a famous test case for optimization software. It's called the banana function because of its curved contours.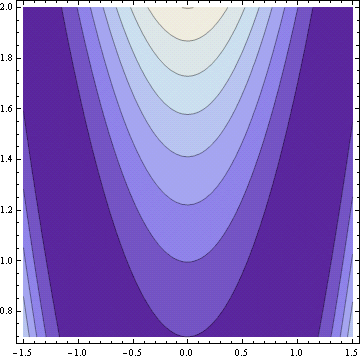 The definition of the function is
The function has a global minimum at (1, 1). If an optimization method starts at the point (-1.2, 1), it has to find its way to the other side of a flat, curved valley to find the optimal point.
Rosenbrock's banana function is just one of the canonical test functions in the paper "Testing Unconstrained Optimization Software" by Moré, Garbow, and Hillstrom in ACM Transactions on Mathematical Software Vol. 7, No. 1, March 1981, pp 17-41. The starting point (-1.2, 1) mentioned above comes from the starting point required in that paper.
I mentioned a while back that I was trying out Python alternatives for tasks I have done in Mathematica. I tried making contour plots with Python using matplotlib. This was challenging to figure out. The plots did not look very good, though I imagine I could have made satisfactory plots if I had explored the options. Instead, I fired up Mathematica and produced the plot above easily using the following code.
Banana[x_, y_] := (1 - x)^2 + 100 (y - x*x)^2
ContourPlot[Banana[x, y], {x, -1.5, 1.5}, {y, 0.7, 2.0}]