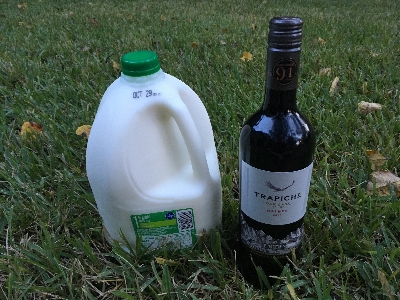 The US uses a mix of imperial and metric units of measure. Some people, almost all outside the US, are quite agitated by this. In practice, the two systems coexist peacefully.
Americans buy milk by the gallon and wine by the milliliter. Milk typically comes in gallon jugs, and wine typically comes in 750 milliliter bottles. The inconsistency is curious but harmless.
For practical purposes, milk is sold in units of jugs, not gallons. And wine is sold in units of bottles, not milliliters. When I go to the store to buy a jug of milk or a bottle of wine, I'm not that aware of the units. If overnight the size of a milk jug changed from one gallon to four liters, or if wine went from 750 milliliter bottles to 25 fluid ounce bottles, no one would know.
If you went to a store determined to buy exactly equal volumes of milk and wine, you couldn't do it. You'd need to buy more containers of each than any store could possibly sell [1]. But nobody ever does this.
And if for some bizarre reason you really did want to buy equal volumes of milk and wine, the biggest problem would not be gallons versus milliliters but rather the uncertainty in both. A jug of milk isn't exactly one gallon, nor is a bottle of wine exactly 750 milliliters.
Related post: In defense of complicated measurement systems
[1] A US gallon is 231 cubic inches, and an inch is 2.54 centimeters. From this can work out that 31,250,000 milk jugs contain the same volume as 157,725,491 wine bottles.