Here's an interesting graph from Marko Pinteric comparing Microsoft Word and Donald Knuth's LaTeX.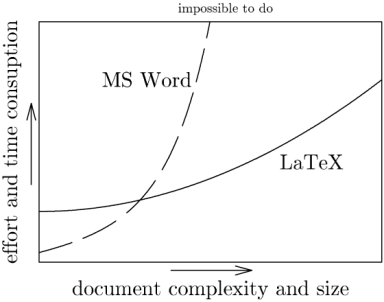 According to the graph, LaTeX becomes easier to use relative to Microsoft Word as the task becomes more complex. That matches my experience, though I'd add a few footnotes.
Most people spend most of their time working with documents of complexity to the left of the cross over.
Your first LaTeX document will take much longer to write than your first Word document.
Word is much easier to use if you need to paste in figures.
LaTeX documents look better, especially if they contain mathematics.
See Charles Petzold's notes about the lengths he went to in order to produce is upcoming book in Word. I imagine someone of less talent and persistence than Petzold could not have pulled it off using Word, though they would have stood a better chance using LaTeX.
Before the 2007 version, Word documents were stored in an opaque binary format. This made it harder to compare two documents. A version control system, for example, could not diff two Word documents the same way it could diff two text files. It also made Word documents difficult to troubleshoot since you had no way to look beneath the WYSIWYG surface.
However, a Word 2007 document is a zip file containing a directory of XML files and embedded resources. You can change the extension of any Office 2007 file to .zip and unzip it, inspect and possibly change the contents, the re-zip it. This opens up many new possibilities.
I've written some notes that may be useful for people wanting to try out LaTeX on Windows.