I've run across a couple web sites that let you enter a LaTeX symbol and get back its Unicode value. But I didn't find a site that does the reverse, going from Unicode to LaTeX, so I wrote my own.
If you enter Unicode, it will return LaTeX. If you enter LaTeX, it will return Unicode. It interprets a string starting with "U+" as a Unicode code point, and a string starting with a backslash as a LaTeX command.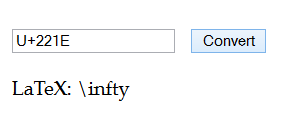 For example, the screenshot above shows what happens if you enter U+221E and click "convert." You could also enter infty and get back U+221E.
However, if you go from Unicode to LaTeX to Unicode, you won't always end up where you started. There may be multiple Unicode values that map to a single LaTeX symbol. This is because Unicode is semantic and LaTeX is not. For example, Unicode distinguishes between the Greek letter Ω and the symbol Ω for ohms, the unit of electrical resistance, but LaTeX does not.
* * *
For daily tips on LaTeX and typography, follow @TeXtip on Twitter.