This is the final post in a series of three posts about shortest tours, solutions to the so-called traveling salesmen problem.
The first was a tour of Africa. Actually two tours, one for the continent and one for islands. See this post for the Mathematica code used to create the tours.
The second was about the Americas: one tour for the North American continent, one for islands, and one for South America.
This post will look at Eurasia and Oceania. As before, I limit the tours to sovereign states, though there are disputes over which regions are independent nations. I first tried to do separate tours of Europe and Asia, but this would require arbitrarily categorizing some countries as European or Asian. The distinction between Asia and Oceania is a little fuzzy too, but not as complicated.
Oceania
Here's a map of the tour of Oceania.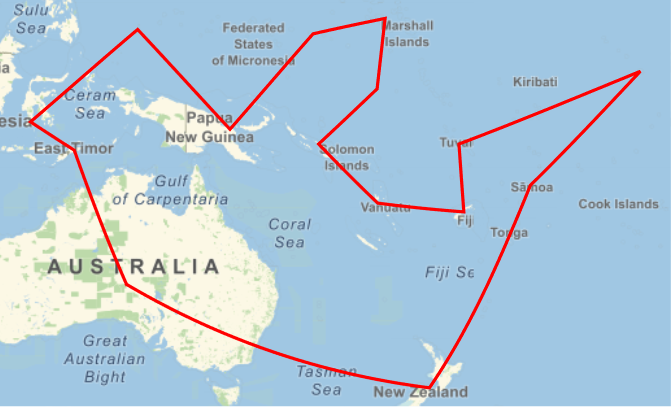 Here's the order of the tour:
Australia
East Timor
Indonesia
Palau
Papua New Guinea
Micronesia
Marshall Islands
Nauru
Solomon Islands
Vanuatu
Fiji
Tuvalu
Kiribati
Samoa
Tonga
New Zealand
The total length of the tour is 28,528 kilometers or 17,727 miles.
Eurasia
Here's a map of the the Eurasian tour.
Here's the order of the tour:
Iceland
Norway
Sweden
Finland
Estonia
Latvia
Lithuania
Belarus
Poland
Czech Republic
Slovakia
Hungary
Romania
Moldova
Ukraine
Georgia
Armenia
Azerbaijan
Turkmenistan
Uzbekistan
Afghanistan
Pakistan
Tajikistan
Kyrgyzstan
Kazakhstan
Russia
Mongolia
China
North Korea
South Korea
Japan
Taiwan
Philippines
East Timor
Indonesia
Brunei
Malaysia
Singapore
Cambodia
Vietnam
Laos
Thailand
Myanmar
Bangladesh
Bhutan
Nepal
India
Sri Lanka
Maldives
Yemen
Oman
United Arab Emirates
Qatar
Bahrain
Saudi Arabia
Kuwait
Iran
Iraq
Syria
Lebanon
Jordan
Israel
Cyprus
Turkey
Bulgaria
North Macedonia
Serbia
Bosnia and Herzegovina
Montenegro
Albania
Greece
Malta
Italy
San Marino
Croatia
Slovenia
Austria
Liechtenstein
Switzerland
Monaco
Andorra
Spain
Portugal
France
Belgium
Luxembourg
Germany
Netherlands
Denmark
United Kingdom
Algeria
The total length of the tour is 61,783 kilometers or 38,390 miles.